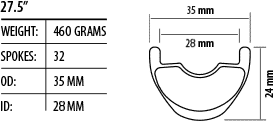 AVAILABLE NOW!
The Atomik Carbon AM 35 was engineered for riders who live for big descents, but often have to earn their turns. Shuttles, chairlifts and helicopters are nice, but we know that some of the rowdiest runs and epic rides aren't always that easy to get to. Descend with contempt for line choice or intentionally aim for what others avoid? Whether it's your final run in an enduro series or a first descent in the backcountry, this rim's for you.
Atomik Carbon's burliest all-mountain/enduro rim to date, the AM 35 designed to take what today's mid to long-travel bikes can dish out. Atomik's trusted hookless profile featuring oversized 3.5-millimeter sidewalls has been stretched to a 35-millimeter rim design boasting an interior width of 28 millimeters to accommodate high-volume and WT tires for optimal footprint and traction and crafted from an entirely new layup that favors strength and stiffness over shaving grams.
Directional drilling aids in alleviating the additional stress placed on the nipple/spoke bed interface.
Rims: $435 each
Complete wheel set starting at: $1,450
*All Atomik wheel sets and rim products purchased online ship worldwide for free. Simply add it to your cart and checkout.
Standard Decal Colors
Tubeless Ready
Yes
Depth
24mm
Width – O.D.
35mm
Width – I.D.
28mm
Hookless Sidewall

3.5mm
Weight
460g +/- 20g
Spoke Drilling
32 – Directionally Drilled
Spoke Tension
Rec 110-120 kgf
Tested to 180 kgf
ERD
561
Finish
UD Matte Carbon
Price
$435 U.S. msrp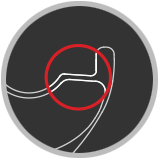 Bead Lock
All Atomik Carbon rims utilize an angled bead lock to keep the tire bead positioned on the shelf when air is released from the tire and also adds a level of safety if a tire is leaking. This features allows you to refresh sealant without having the tire bead fall into the center of the rim, resulting in a tire that is more difficult to inflate and re-seat.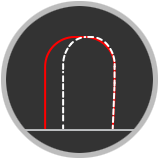 Hookless Design
The hookless wall thickness is a whopping 3.5mm and designed to help displace impact. The wall thickness is much greater than traditional hookless designs (as shown in the illustration above) and the additional strength provided by the thicker sidewall yields a rim that is light and extremely strong.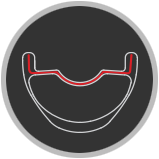 Impact Resistant Construction
Atomik Carbon rims feature a layer of composite material that increases the impact strength and helps distribute energy and shock from impacts to the rim (illustrated above) All rims use a blend of Toray 700 and 800 carbon fiber with the Toray 800, which is 25% stronger, used in high
impact areas.